Innjobs.net cooperation with APAX Constructions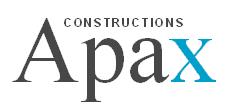 Innjobs.net announces its collaboration with APAX Constructions Company – Karatzimas A and Co. Innjobs.net has created a tool for HR Departments in Tourism and especially hotel industry, targeted at all hotels' specialties, for the whole Greece, by region, by age, by gender as well as by pricing policy. By joining the Innjobs.net platform, employers and employees in the tourism industry can become members of our company, acquire their personal password and can make use of its services.
APAX Constructions is mainly active in the construction of hotel units, luxury residences and shops. Its clientele includes some of the most powerful brands of the hotel industry (HILTON, SHERATON, and MARRIOTT) as well as the retail sector (Vivartia, Starbucks, Carrefour, Lidl, Public etc.). APAX successfully works both in Greece and abroad.
The cooperation of the two companies successfully combines the construction and operation of a hotel with appropriate staffing with personnel of high qualifications and experience so that a successful result can be achieved.
Information: info@innjobs.net